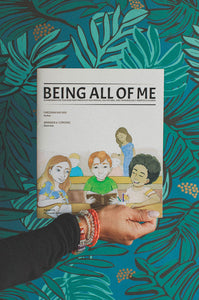 An illustrated handbook for teachers and parents, outlines important aspects of identity, development, and reactions to challenging situations that impact our children on a daily basis. How can your transracially-adopted child effectively respond to uncomfortable questions?
'Being All of Me' was created in partnership with Multiracial Americans of Southern California, and proceeds go to MASC and other programming to benefit multiracial families and children. It is an illustrated handbook with activities for parents and educators to use to support multiracial and transracially adopted children, including how to deal with microaggressions and a resources page.
'Being All of Me' is also referenced in my latest book Raising Multiracial Children: Tools for Nurturing Identity in a Racialized World.
Shipping available to the U.S. and Canada Only.